Lenovo has announced the latest additions to the ThinkPad portfolio: the new T series, X series and L series are built leveraging the core tenets of design, innovation and quality. Focused on providing a broad customer choice and a smarter workforce experience, the updated ThinkPad portfolio delivers modern IT solutions with emerging technology features to meet the needs and desires of end users.
Innovations across the range include Modern Standby, Wake on Voice, WiFi 6, Dolby Audio™ Speaker System and Dolby Vision®, plus customers can optimize select models with either 10th Gen Intel® Core™ vPro® processors coming later in 2020 or the next generation AMD RyzenTM PRO 4000 Mobile processors. Lenovo will be the first PC vendor to offer the AMD Ryzen™ PRO 4000 Mobile processors.

These latest models reinforce Lenovo's strategy to deliver Smarter Technology for All by evolving PC technology that delivers real value. Enhanced end user experience is provided by innovative features:
Modern Standby offers a smartphone-like always-on, always-connected experience where the system remains connected on low power and continues to sync. Fast resume times gets users fully productive quickly and Wake on Voice can simplify that process further.
WiFi 6 and up to CAT 16 WWAN provide super-fast connectivity options to reduce download times and ensure efficient cloud collaboration, virtually anywhere. WiFi 6 is designed to maintain optimum connection speeds on saturated wireless networks and new WPA3 security protocol makes it even harder for cybercriminals to crack passwords.
New unified communications function keys enable rapid answer and hang up of calls.
Premium UHD, OLED and Dolby Vision display options deliver brilliant visuals, and Dolby Audio Speaker System on ThinkPad T and X series or Dolby Audio on L series offer enhanced audio experiences.
ThinkShield security solutions continue to be an integral part of ThinkPad laptops with optional PrivacyGuard ePrivacy display and PrivacyAlert on models with an IR Camera. ThinkShutter webcam protection and fingerprint readers are also available on all models.
ThinkPad Laptops are Built to Last
A ThinkPad would not be a ThinkPad without the rigorous Mil-Spec testing9 and critical quality control criteria. Over the past fifteen years, ThinkPad has improved quality by 73% despite shipping 4.5 times more systems per year. Lenovo continues to excel in this space supporting 22 Mil-Spec procedures and remains focused on quality and reliability innovations, such as Low Temperature Solder process, now entering its third year of implementation.
Premium Business Workhorse – ThinkPad T14, T14s and T15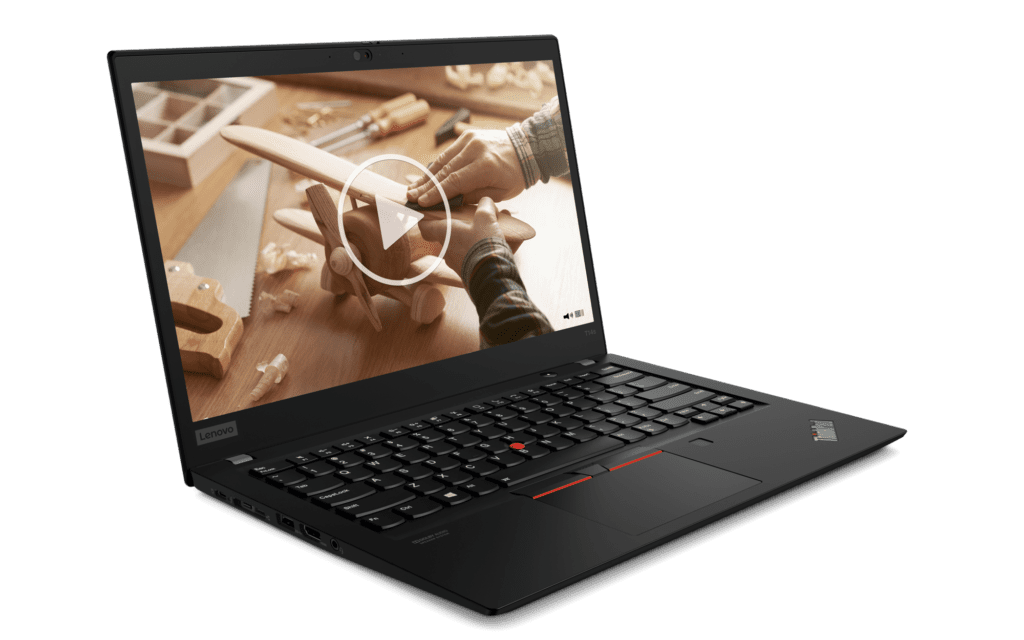 The most successful ThinkPad series ever, the T series is the mainstay of the ThinkPad portfolio. The 14 and 15-inch models are available with Windows 10 Pro and powered by 10th Gen Intel Core vPro processors coming later in 2020, or AMD Ryzen™ PRO 4000 Mobile processors can be configured on ThinkPad T14s and T14.
The latest models include all the innovations users would expect from a premium workhorse laptop. Modern Standby, Wake on Voice, Dolby Audio Speaker System and brighter displays with optional Dolby Vision support all contribute to a unique end user experience. Add state-of-the-art connectivity with WiFi 6 and optional CAT 16 WWAN, that unique experience extends far beyond the office.
Premium Mobile Workhorse – ThinkPad X13 and X13 Yoga

Designed to echo the features of the T series in a smaller more portable package, the latest X series includes many smart PC innovations. Both X13 and X13 Yoga can be configured with an FHD 500 nit PrivacyGuard ePrivacy display with PrivacyAlert that helps protect users from over the shoulder glances and the X13 Yoga includes Dolby Audio Speaker System and an option for a vivid UHD OLED display with Dolby Vision. ThinkPad X13 Yoga and X13 ships with 10th Gen Intel Core vPro processors coming later in 2020. ThinkPad X13 is also available with AMD Ryzen™ PRO 4000 Mobile processors.
Efficient Productivity for any Business – ThinkPad L14, L15, L13 and L13 Yoga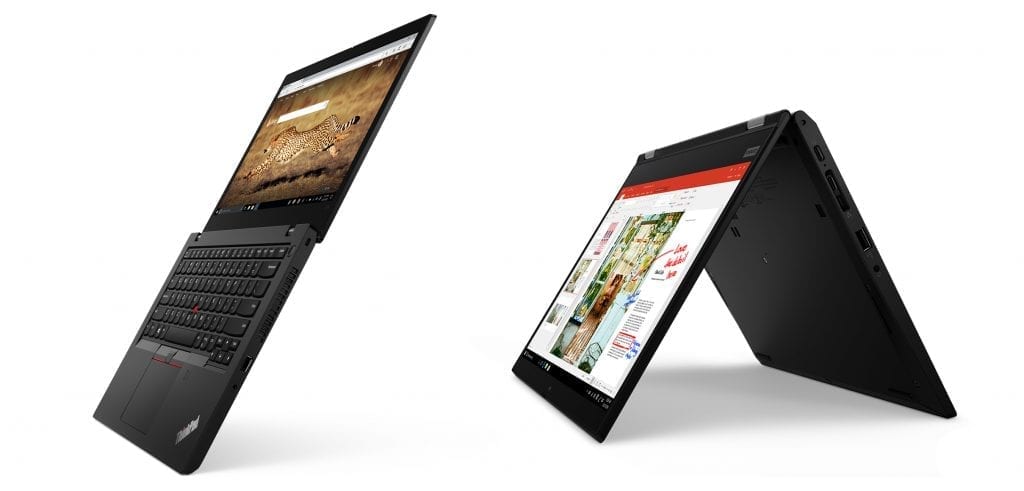 Business users who seek the attributes of ThinkPad and need value-driven productivity should consider the ThinkPad L series. Redesigned to be thinner and lighter across the board, the new L series provide the features that users need to be efficient. WiFi 6 and optional CAT 9 WWAN provide the connection speeds for seamless cloud-based collaboration. New rapid-access unified communications functions keys on ThinkPad L14 and L15 make it easy to join or leave meetings. Dolby Audio and brighter optional on-cell touch displays offer an improved interactive experience while users can enjoy the familiarity of Windows 10 Pro with the convenience of a fingerprint reader support by Windows Hello. ThinkPad L14 and L15 are available with either 10th Gen Intel Core vPro processors coming later in 2020 or AMD Ryzen™ PRO 4000 Mobile processors.
Easing the Support Burden
Lenovo Premier Support is an advanced-level PC support solution designed to meet the demands of our commercial customers. This white-glove service allows our business customers to offload their routine IT support tasks to Lenovo's dedicated team of technicians, freeing up their own staff to focus on other strategic initiatives and boosting end-user productivity by resolving issues faster. Premier Support is available 24×7 every day of the year in 100+ markets, offering comprehensive hardware and software support, direct access to elite technicians with unscripted solutions, and simplified end-to-end case management with a single point of contact.